I wrote this post on Monday this week, but for the life me, I don't know why I didn't hit "publish". Could've sworn I did!
LittleD was up bright and early this morning... throwing up. In her bed.
Yup, I had a load of laundry going before 5 am this morning.
Came out of no where. I hope she just ate something disagreeable yesterday. She really didn't have a fever (98.9).
So, here I am: 8:55 am on a Monday on the blog, in my PJs and robe, dog lying on my feet, watching The Andy Griffith Show and I'm thinking "boy, I'm glad I don''t have to go out in the -5 degree weather!"
What a life! (except for the barf)
It was a busy weekend. I had to work a trade show--where I had a real life, face-to-face meet up with Bloggy Pal Jent at
From My Front Porch...
LittleD tagged along with me. One of my friends was amongst the show organizers and her husband was out of town, so she contracted with LittleD to baby sit her 1-year-old. Now this was LittleD's first paid babysitting job. She did great and kept the Babe entertained the whole time. The only crying was during the diaper change (and it was the Babe, not LittleD).
I did have to step in to help with the diaper duty... Yes, it was the full prize the first time. Since this was LittleD's first, she needed a little guidance on the details. So, now I'm trying to collect my fee as a diapering subcontractor. Don't you think LittleD owes me a cut of the profit? I did all the wiping! She seems to think I do these things for free. I'm trying to teach her some basic economics. Some how, I don't think she's going to ante up...
Now LittleD is loaded. Only she's not looking to go out and spend it right away. She's saving up to go on a mission trip with our church. Hopefully next year. She's very committed to earning the money herself--which I think is great. She just seems.... sniff... so grown up... sniff.
Meanwhile, I'm going to do the Meet Me On Monday link up.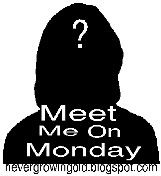 When BabyD comes home, I'm sure she'll want to add to the post, as has become her thing lately. Until then, you can see my boring old answers:
Questions:
1. What is your favorite kind of cheese?
A: Asiago, especially on scrambled eggs with mushrooms. Otherwise, it used to be this caraway seed Havarti that I can't find anymore.
2. What size is your bed?
A: Queen. Big mistake. Should've bought the king when we had the chance. It just seemed so big back then... before we had kids, who like to snuggle.
3. What is your most overused phrase?
A: Lately I've been finding myself saying "really?" I used to annoy one of my coworkers with "Look at me!", but I think I've broken that one.
4. Green or purple grapes?
A: Purple. Actually black seedless, if they're on sale. Seems like green are always the cheap ones.
5. Shower, morning or night?
A: Morning or else the previously mentioned coworkers would say "Look at you!" because of my hair's ability to channel Medusa overnight.