Anyone tired of turkey yet?
Not me!
I love, love, love making a big ol' turkey and using the leftovers in about a hundred (ok, maybe only 75) different ways.
I don't wait for Thanksgiving or Christmas to make a big bird. (It's just a good time to stock up my freezer when they're on special at the store!)


I usually make the biggest bird I can lay my hands on. This year's was a mere 20 lbs.
And, I learned a long time ago not to screw around with that silly basting business and flipping the bird part-way through. Heck no! I just use my trusty Oven Bags. A turkey-sized bag and a meat thermometer and you can't go wrong! I haven't made a dry turkey in years! (Is that bragging?)
Actually, after my family had to choke-down a very dry bird early in my marriage, my Grandma suggested I try her method. And it works like a charm. Plus, it cooks faster.
Bonus!
So, on this Hunk O' Meat Monday, I want to give a shout out to
Katie and her family at Squaw Creek
, who raise turkeys for the rest of us to enjoy.
Here's my first leftover recipe:

Turkey Mushroom Risotto Recipe

Ingredients
2 Tbsp butter
1 large shallot, chopped
1/3 pound chanterelles or other fresh mushrooms, chopped
2 garlic cloves, chopped
1 Tbsp fresh sage, chopped
1 1/2 cups Arborio, Carnaroli, Vialone Nano, or other risotto rice
Salt
3 cups turkey or chicken stock
2 ounces Chevre or other fresh goat cheese
Black pepper to taste

Directions
1 Bring the stock, plus an additional 2 cups of water, to a simmer.

2 Heat the butter in a medium-sized pot over medium-high heat for 1-2 minutes, until it begins to brown. Add the shallots and mushrooms and toss to combine. Salt them well and sauté until the shallots are translucent, about 3 minutes.

3 Add the garlic, sage and rice and stir well. Sauté for another 1-2 minutes, stirring often. Add 1 cup of the simmering stock. Stirring constantly, let the stock evaporate before adding another 1/2 cup. Repeat, stirring almost constantly, until the rice is al dente, cooked through but still a little firm. This will take about 20-30 minutes.

4 When the rice is al dente, add the goat cheese and stir well to combine. Add the black pepper and stir again. Serve at once.

Serves 4.
**My appologies to the blog where I found this recipe a while back--I didn't make a note of it to give appropriate credit.
Now, for this week's Meet Me On Monday 5 Questions.
BabyD is joining me again to help answer (in blue). (She's a my blogger-in-training, since LittleD is burried in homework!)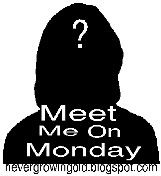 Questions:
1. What is your favorite way to eat chicken?
A: Orange chicken, grilled chcken with ketsup, or Chick-Fil-a chicken sandwhich. I vote for the orange chicken/General Tsao's.
2. Have you decorated for Christmas yet?
A: No, because my sister LittleD has her birthday in December, so she gets to decide when the tree goes up. Which is not fair. She always says after her B-Day, but I want to do it the day after Thanksgiving. To be fair, this is the first year she's asked to wait until after her birthday.
3. What is your favorite article of clothing?
A: My new furry boots, and jacket, gloves, my new black scarf my mom made. I don't have an absolute favorite, except maybe my black pencil skirt.
4. Do you pay your bills online or write checks the old way?
A: I am so happy I don`t have to pay any bills. I get to relax! (Isn't life great when you are 10?)
5. Do you make Christmas cookies?
A: Yes, with a lot of frosting, and sprinkles on the cookies I make compared to Mom and LittleD. But mine are the Best. We usually get some made--which rarely last very long!!