The girls were off school for fall break this past week.
Yeah, I know it's early. But it always lands whenever the teacher convention is for Christian school teachers in this area. Sometimes it's earlier than others.
So, we opted to go visit the 'rents (The Husband's parents, that is) for the four-day weekend.
Among our adventures was witnessing a car accident (which prompted a short post on Friday). That has BabyD a little shaken up. We weren't involved, but could've been if The Husband hadn't stopped soon enough. Grandma took the girls shopping and sprung for a new dress for each of them. (Note to self: Time to go get annual pictures taken, now that they have something to wear.) And the girls got an OVERLOAD on the Disney Channel--hours and hours and hours of it. (For those who don't know, among my qualifications for
World's Meanest Mom
is my ongoing refusal to get cable--or in our case, satellite--because I'm too cheap to pay for it.) My feeling about pay-TV was only reinforced as my kids demonstrated that in the very presence of access to 150 channels they become drooling idiots, wrapped in blankets and glued to a chair. (And I can't stand that Zac and Cody!! But I digress...)
The real highlight of our weekend was another lesson in the girls leaning to fly.
Only in this family, that means
FLY FISHING.
I always thought fishing was the most boring past-time, until I married into a family of fly fishermen (and women).
This version of the sport is way-more stimulating than sittin' around watching the bobber float. (I'm yawning just thinking about it...) And--wait there's more!--the REAL bonus is: You don't have to touch any worms!!!! (There is NOTHING GROSSER on this planet than worms!!! I digress, once again...)


Isn't this how time with your grandparents should be?
Grandpa is working with LittleD on her casting.
Grandma is supervising BabyD's technique.

Anyway, except for a stiff breeze that will throw your line off, God blessed us with a GORGEOUS fall day for nabbing some rainbow trout. That is, for everybody but me!

I tried everything...
I tried dry flies...
I tried bright-colored flies...
And those stupid, stupid fish just ignored me! In 20 years, I have never caught a fish!
But, I still enjoy the challenge. And that's exactly what it is. The beauty of fishing for trout is you can see those fish-- literally! Look at them:
And they taunted me. Circling the lure, over and over. And nary a nibble.

This was only the second time the girls have really fly-fished. They did great! Each of them snagged four trout. We did catch-and-release. While I like trout, the 'rents hate to eat it and The Husband is allergic. I, however, true to my history, didn't have to worry about it... because I caught NONE!!!
If I get motivated this week, I may have to blog about the aspects of our visit.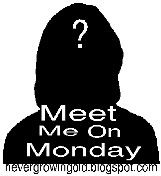 Meet Me On Monday Questions:
1. What is the best dish you can make?
A: Grilled pork chops--so good, they need nothing on them!
2. How often do you change your sheets?
A: Every Saturday.
3. What is the longest car trip you have ever taken?
A: Without stopping for more than a potty break? 3 days in a car to Maine when I was a kid. My dad wouldn't spring for a hotel!
4. What is your favorite fruit?
A: Watermelon! Or whatever is in season!
5. Would you rather have breakfast for dinner or dinner for breakfast?
A: Dinner for breakfast. Always.